Lamb keftedes are Greek meatballs, and a traditional menu item for this Mediterranean country.  When mixed with spices and lemon juice, these meatballs take on a fresh flavor that is unique and delicious.
Add yogurt dressing (tzatziki), rice, and salad greens, and you've got a flavorful meal that you can grill, with little mess.
Serve as meatballs and sauce, or put the whole together as a wrap sandwich. Perfect for a quick weekday dinner, but so flavorful that it'll taste like you cooked all day!
Tzatziki
Make this yogurt sauce in the morning and refrigerate, or allow it to rest at least 30 minutes before serving, to get the full flavor.  Tzatziki is also wonderful as a dip, with veggies and pita bread.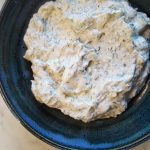 Yogurt sauce (tzatziki)
Speed up the process of making this yogurt sauce by grating the cucumber over cheesecloth and squeezing out excess liquid.
Ingredients
3/4

cup

seedless cucumber

peeled and grated

1

cup

plain yogurt

Greek style

1

tsp

crushed garlic

1

tbsp

dried dill

1

tbsp

olive oil

1/2

tsp

salt

1/4

tsp

black pepper

1/4

tsp

cayenne pepper
Instructions
Grate cucumber over a piece of cheesecloth and sprinkle with salt. Squeeze the pulp until most of the liquid had drained.

In a medium bowl, mix the cucumber with the plain yogurt. Add the oil and spices. Cover and refrigerate for about 30 minutes.
Lamb Keftedes (Meatballs)
You can also serve these meatballs as kabobs, if you wish, by forming the meat on skewers before grilling.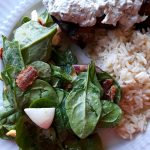 Lamb Keftedes
Ingredients
1

1b.

lamb

ground

1/2

lemon

juiced

1

tsp.

salt

1/4

tsp.

pepper

2

tbsp.

za'tar seasoning

1

tsp.

ground cumin

1 1/2

tsp.

ground coriander

1

onion

minced

2

tsp.

crushed garlic
Instructions
Combine all ingredients thoroughly. Shape into cylinders about 2 inches thick and 3 inches long. Grill or broil, turning to cook evenly. Serve with yogurt sauce (tzatziki).