My friend Cathy is a great hostess, and generous spirit. Her girls definitely take after their mom.
Last summer, she invited me over for lunch and a swim. Cathy's backyard is an oasis, especially in the heat of July and August.
The twins made a simple and delicious appetizer that was perfect for a hot summer day, because serving it at room temperature brings out all the best flavors.
Here's how easy it is: just thread a toothpick with a grape tomato between two mozzarella pearls. If you have fresh basil leaves, wrap one around the tomato before skewering.
Then, dip the whole thing in a flavored or unflavored olive oil and arrange the tidbits on a serving plate. Or, you can drizzle the olive oil over the arranged plate.
Best of all, you are looking at a tasty, low-carbohydrate, and gluten-free appetizer that travels well.
Enjoy!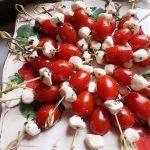 Easy Tomato Mozzarella Appetizer
Gluten-free, low-carbohydrate, easy and delicious!
Ingredients
20

grape tomatoes

40

mozzarella pearls

or, cut whole mozzarella ball into small cubes, about 1/2 inch

3

tbsp

olive oil, flavored or unflavored

20

basil leaves

or, 1 tbsp dried basil

20

toothpicks
Instructions
Thread a toothpick in this order: one mozzarella pearl, a basil wrapped grape tomato, and then another mozzarella peal.

If you are using dried basil, mix it with the olive oil.

Dip the tomato/mozzarella toothpicks in olive oil, then arrange on a serving platter.

Alternatively, you can arrange the appetizers, then drizzle with olive oil and sprinkle with dried basil.

Serve at room temperature.