Lentil salad adds a flavorful zing to the summer picnic buffet.
With 8 grams of protein, plus fiber and olive oil, lentil salad is a healthier option than traditional, mayonnaise-based summer salads.
Like our other lentil dishes, this recipe is easy, and you can prepare it ahead of time. Then, bring the salad to room temperature before serving.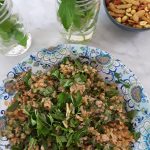 Lentil Salad with Fresh Herbs
This flavorful salad is easy and impressive, a welcome addition to the summer buffet table.
Cuisine:
Italian, Middle Eastern
Keyword:
herbs, lentil, lentils, salad
Ingredients
1

cup

lentils, dry

3

cups

water

3

cups

chopped, mixed, fresh herbs: parsley, oregano, mint, thyme

1/2

cup

lemon juice, fresh

1/2

cup

olive oil

2

tbsp

crushed garlic

2

tsp

cumin, ground

1

tsp

allspice, ground

salt & pepper to taste
Instructions
Cook the Lentils
Rinse the lentils in a colander and discard any pebbles, stems, etc. that may have been packed in the bag.

Put the lentils and 3 cups of water in a large pot and bring the pot to a boil. Cover, reduce heat, and simmer for 20-30 minutes, until the lentils become tender but not mushy. (Some may get mushy, but that's okay.)

Drain the cooked lentils in colander. Cool and then refrigerate if you are making the salad later.
Prepare the Fresh Herbs
Wash and remove stems from oregano, mint, and thyme. Wash the parsley. Chop herbs to make about 3 cups. You can vary the amount of each herb according to your taste. I used more parsley and mint than oregano, and just a few sprigs of thyme.
Make the Dressing
Mix fresh lemon juice, olive oil, garlic, and spices together in a cup or jar.
Construct the Salad
Toss the prepared lentils and herbs together. Pour the dressing over the salad and continue tossing to evenly distribute the dressing.

Add salt and pepper, to taste.

Allow the salad to rest for 30 minutes to an hour before serving, to allow flavors to meld.
© 2020 ajoann.com. All rights reserved. See Legalese tab for permissions.