My nieces have given me a special gift: I have a legitimate excuse to play with toys again.
The twins are on the cusp of three; double trouble, double delight. It is fun to watch them play; it's fun to join in the play. I'm glad I'm not their mom at this stage. It would be WAY too much work.
They like to play tea party, and to play with miniature cars.  They are absolutely secure and determined when they want or need anything. Credit goes to their parents, who let these girls be who they are.
Also, the fact that they are twins gives them a ready-made comfort in being together; a reinforcement, a backup, a co-conspirator. It's amusing to hear the echo. Well, it's amusing to me; I'm not so sure their parents would concur.
Watching them play, I got some ideas for gifts for toddlers and younger kids. Thought maybe you would appreciate the insights. Here are their favorites; some are classics you'll recognize.
Cars, trucks, trains and "erplanes"
My brother's family came by airplane to visit us. It wasn't the girls' first plane trip, but it seems to have left a big impression. Their banter about the "erplane" was hysterical. They loved playing with the wooden train set, the toy cars, and, of course, the toy erplanes.

Hot Wheels Super Ultimate Garage Playset

Paw Patrol, Lights and Sounds Air Patroller Plane
Reinforced Tea Ware
The twins hosted a tea party for a herd of stuffed animals. They enjoyed the clank of the stoneware tea set. I got a little nervous that someone would get hurt as the cups and saucers met the ultimate child testing. So, stoneware may not be the way to go.
Infant Girl's Indigo Jamm Hearts Tea Set

Moma Design Store Jungle Tea Set
Miniatures
Anything small was fair game: cars, animals, people, furniture. It wasn't so much playing dolls or house, but playing "life."
Gnome, Sweet Gnome Sustainable Wood Play Set
Music Makers
Toddlers love music, and musical instruments. This play guitar has been a big hit with the T-set.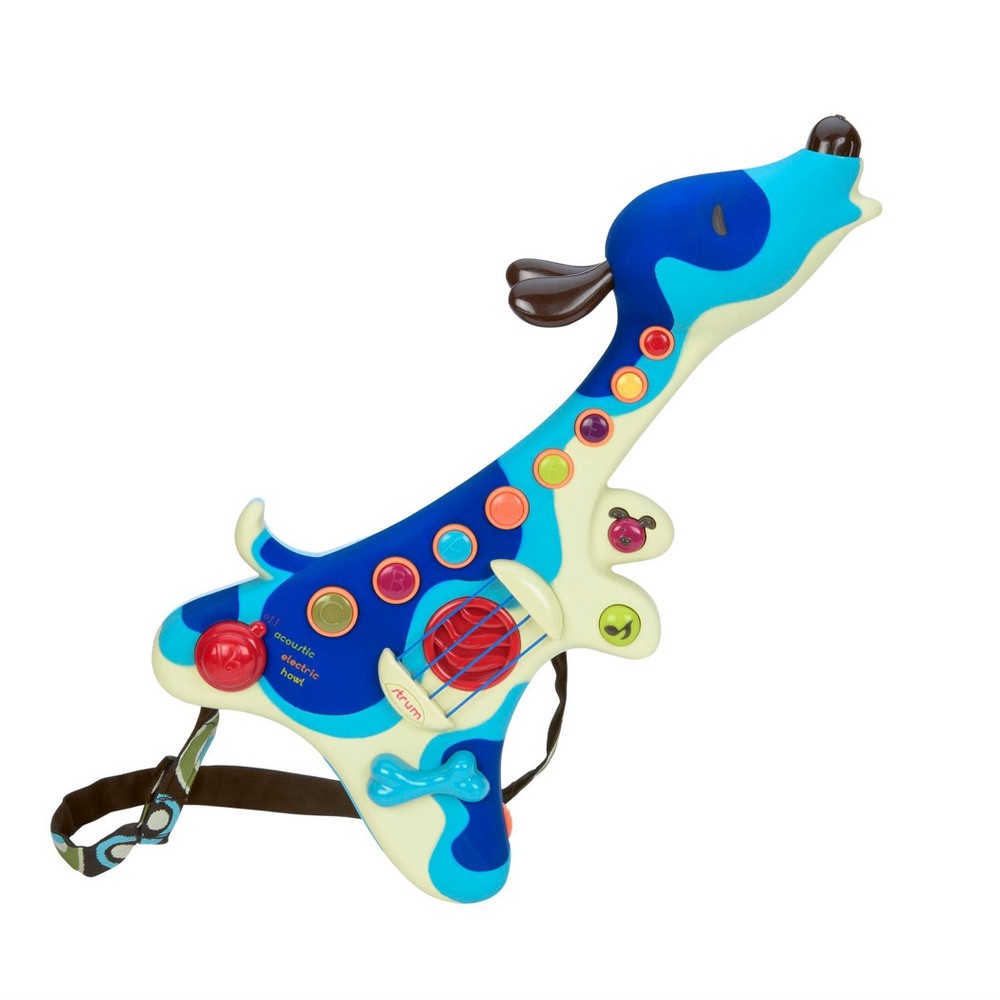 B. toys Woofer, Toy Guitars and String Instruments 
The more realistic looking guitar is also a toddler favorite.
Toy Guitar Rock Star 6 Stringed Toy Guitar Musical Instrument w/ Guitar Pick Vibrant Colors Acoustic Kids Children's Tunable Vibrant Sounds Ukulele (Light Brown)
The Game of Life
Speaking of realistic, any toys that provide an opportunity to imitate real life are always favorites with kids.
Little Patient

Melissa & Doug Doctor Role Play Costume Dress-Up Set (7 pcs)

KidKraft Tasty Treats Chef Accessory Set – Pink
Whatever gifts you decide on, be sure to join in on the play time. Your attention is what makes any toy more fun, and that is the real gift you will give and receive!
?
This post includes links to affiliates. I may receive a commission from this affiliate, at no added cost to you.
© 2017 auntjoannblog.com. All rights reserved. See Legalese tab for permissions.