Kolachki (Kolachky) making is one Christmas tradition that I can't seem to give up, even though sugar is on my naughty list.
Usually, I make apricot pinwheels, and end up eating most of them myself. My family prefers their cookies heavy on chocolate: peanut butter cup cookies, kiss cookies, chocolate chip, and so on.
My earliest memory of making Christmas cookies was decorating sugar cookie cut-outs with my aunt. The more colored sugar I could pile on top, the better!
For my sister, I added gluten-free butter cookies to our holiday tray.
Recently, I tried kolachki made by my friend's mom. I was amazed at the flavor of the almond filling.
I asked Barabara, Sr. (yes, because there is a Barbara, Jr.) what made them pack such a flavor punch.
"It's whiskey," she whispered to me. What?
"There's whiskey in the dough," she repeated.
Then, she recited the recipe for me.
It was so easy to remember. I went home a baked a couple dozen, which my husband and I had no problem demolishing.
So, this year I'll add almond filling to my repertoire.
You've got to try these. Really. They are that good.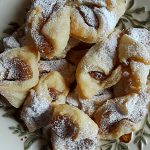 Barbara Sr.'s Kolachki (Kolachky)
Cream cheese and whiskey make a decadent dough.
Keyword:
kolachki, kolachky
Ingredients
1

c.

butter

2 1/4

c.

flour

8

oz.

cream cheese

1

oz.

whisky

2

cans

pastry filling (almond, poppy seed, apricot)

1/4

c.

confectioner's sugar
Instructions
Bring cream cheese and butter to room temperature, then beat together thoroughly. Add whiskey.

Add flour to cheese and butter mixture, about 1/2 c. at a time to fully incorporate it. Dough will be soft.

Divide dough in half and wrap, then refrigerate for at least an hour.

Preheat oven to 375 degrees and line baking sheets with parchment paper.

Generously dust rolling pin and counter with flour. Roll out dough to about 1/8th inch. Use a table knife to cut dough into 2 inch squares.

Put about 1 tsp. filling in the middle of each square, then fold in two opposite corners, overlapping them a bit to wrap the filling. If dough doesn't want to stick, use a toothpick dipped in water to lightly wet the point where the dough should overlap. Press gently on the overlap.

If dough becomes too soft to work with, refrigerate again as needed.

Transfer cookies to a parchment lined baking sheet and bake at 375 degrees for about 15 minutes, until cookies are just beginning to turn golden.

Remove cookies to a cooling rack.

When cookies are completely cool, spoon some confectioner's sugar into a strainer/sifter and dust over cookies.

To store, pack cookies into a covered container. If you are storing them for longer than a day, freezing and then thawing before serving is best to avoid soggy pastry.