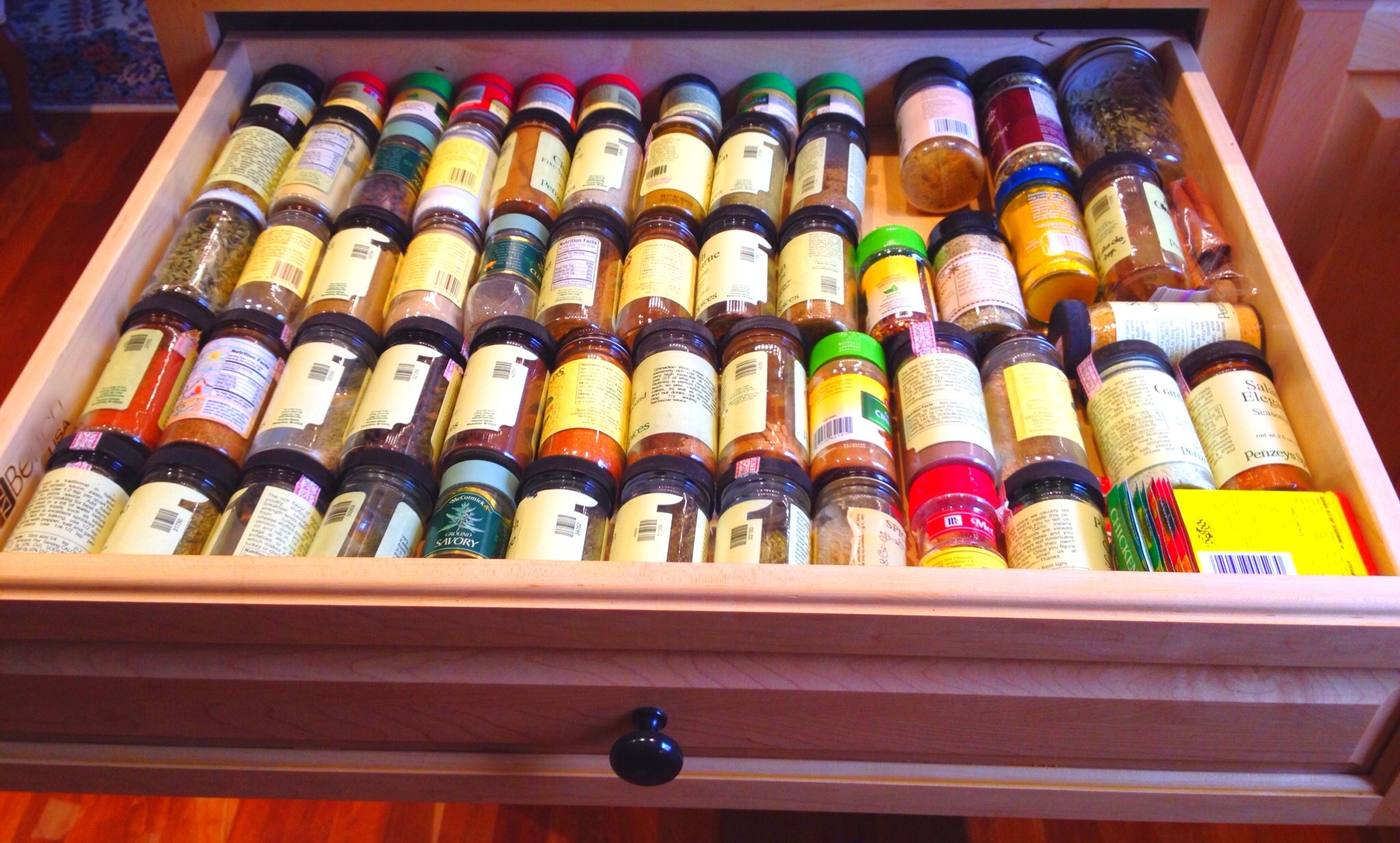 Do you find yourself digging through your spice jars as you cook?
It's one of those minor annoyances that we think about fixing but never seem to address.
But when you are ready for a kitchen remodel, suddenly you have a chance to tackle such a project.
A Spice -y Opportunity
When we started our remodel, our designer met with us to discuss our current kitchen likes and dislikes.
Except for the location of the refrigerator, our kitchen functioned fairly well. We could use more cupboard space (who couldn't?), but, all-in-all, it was a good footprint.
One small hassle was our spice storage. As many people do, we used the Lazy Susan cupboard to store our spices.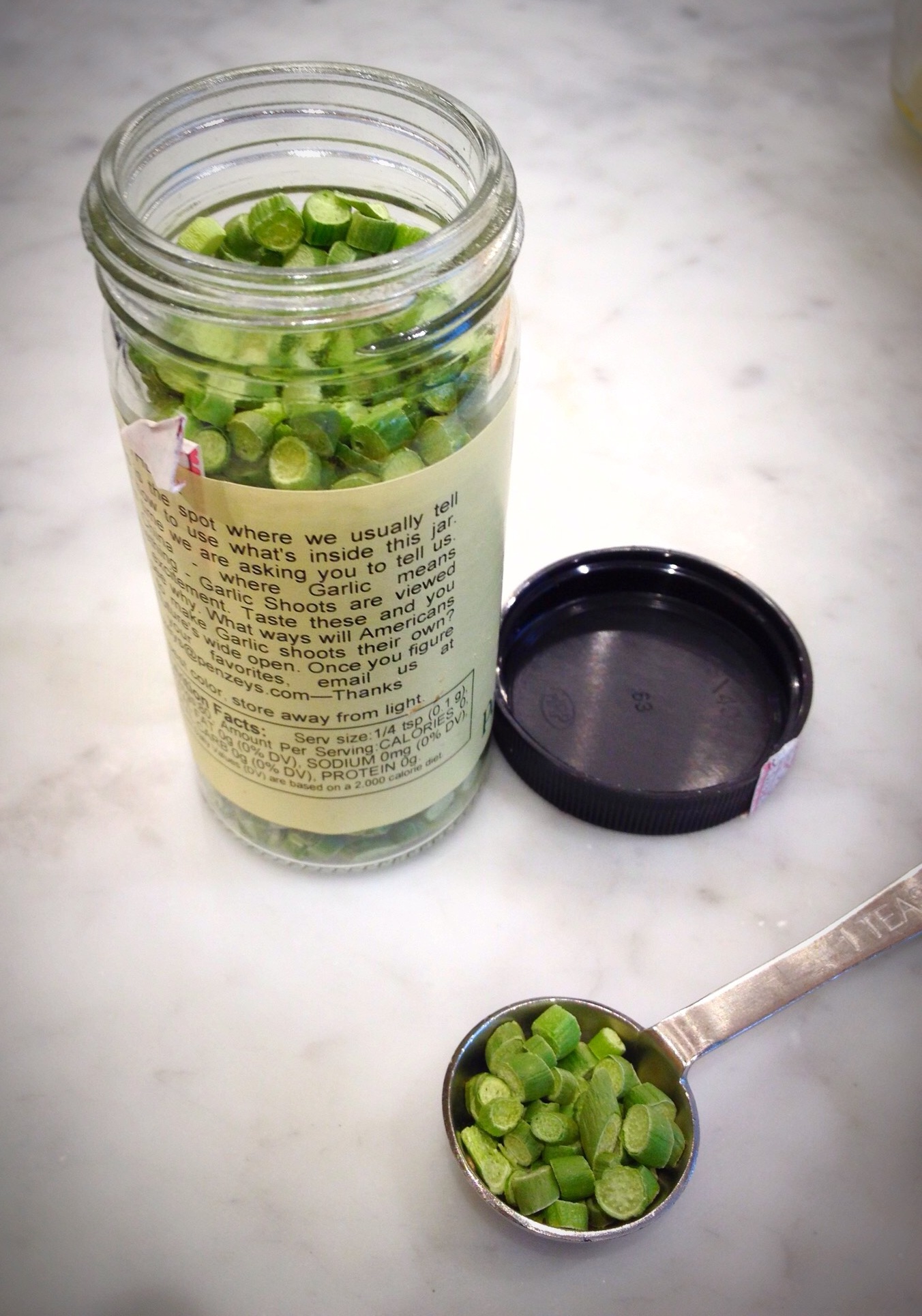 This meant bending down into a dark base cupboard and moving a hundred bottles to find the oregano.
I have more patience for this than my husband, but honestly, how many hours of my life had I wasted searching for a spice jar?
A Drawer Full
When our new cupboards were installed, we gained a large, shallow drawer under the biggest counter top in the kitchen. We thought about how to organize our kitchen gear and assumed this drawer would be for cooking utensils.
Then, "ding!" I had an idea. What if we used this long drawer as a spice drawer?
At first, it took some shuffling to arrange all of the jars, and to keep them from rolling around.  Once everything was in order, though, the spice jars held themselves in place.
With the jars lying sideways, the labels can face upward for easy viewing.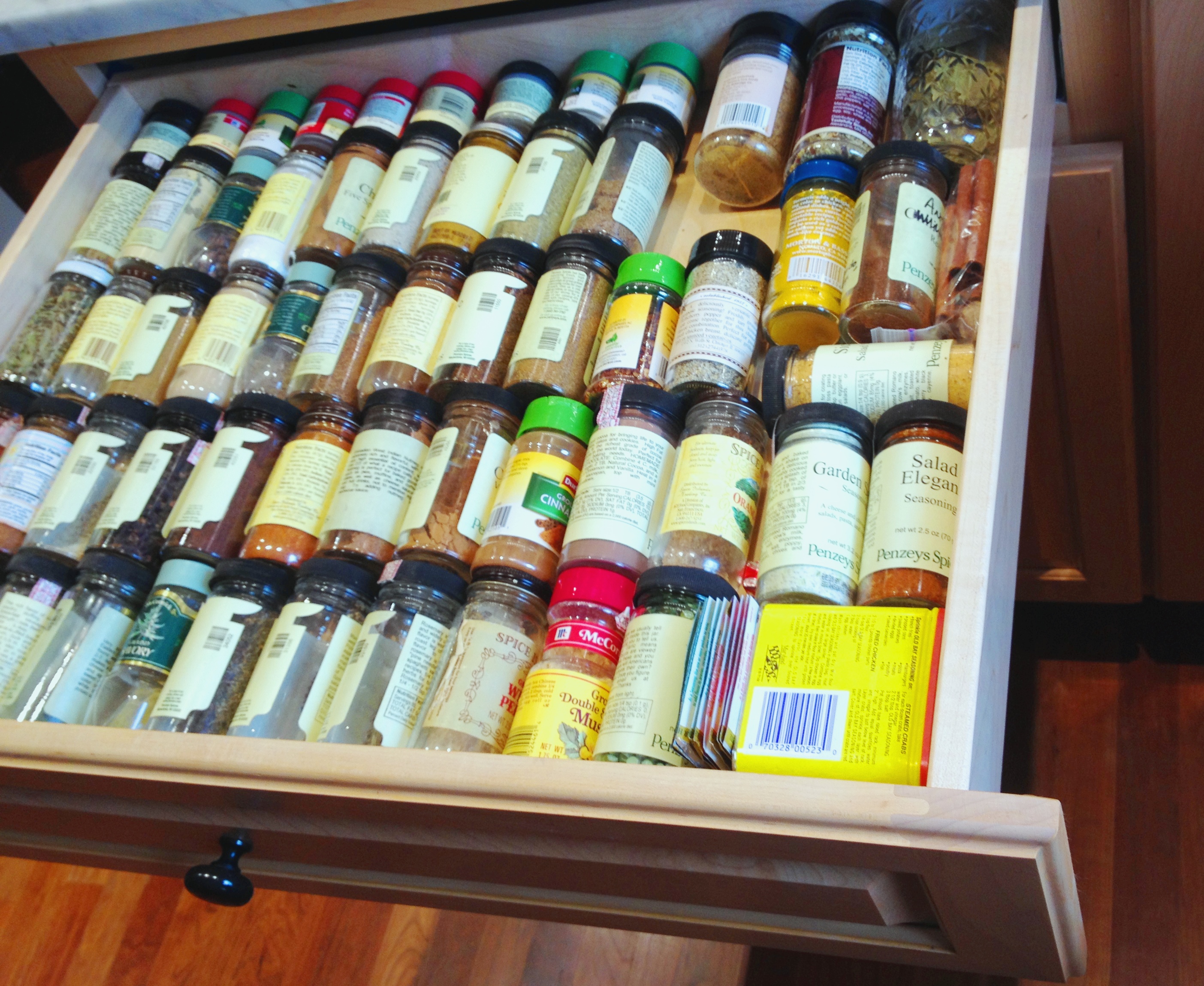 It is a pleasure now to reach for a spice while prepping a dish on the counter top just above the drawer.
You can easily see when a particular spice is running low, and then promptly order more.
It's also easy to clean the drawer with a vacuum attachment.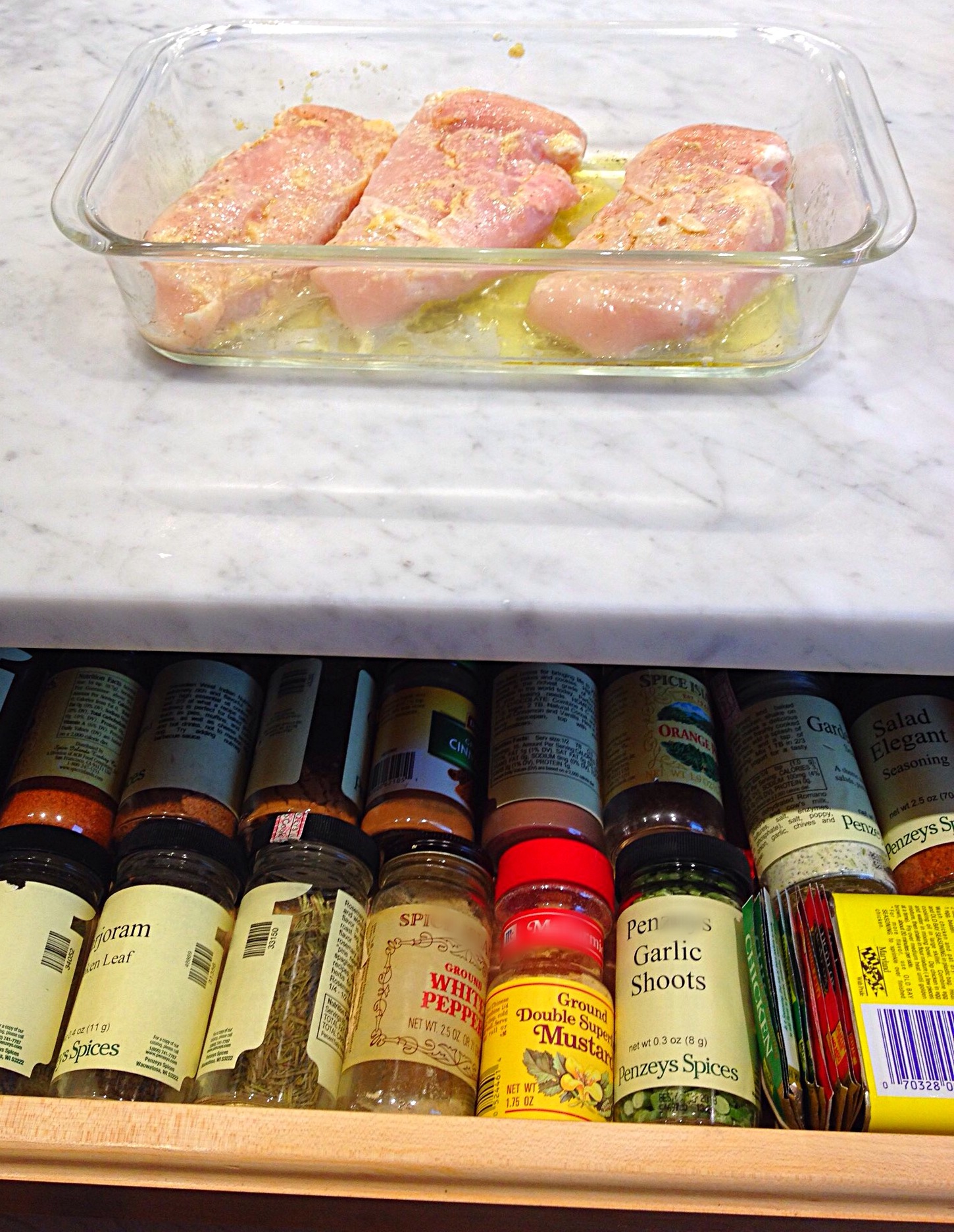 The drawer gets cleaned a lot more often than that dark base cupboard ever did.
Essential Gadgets? Really?
What became of the kitchen utensils that we used to store in a large drawer?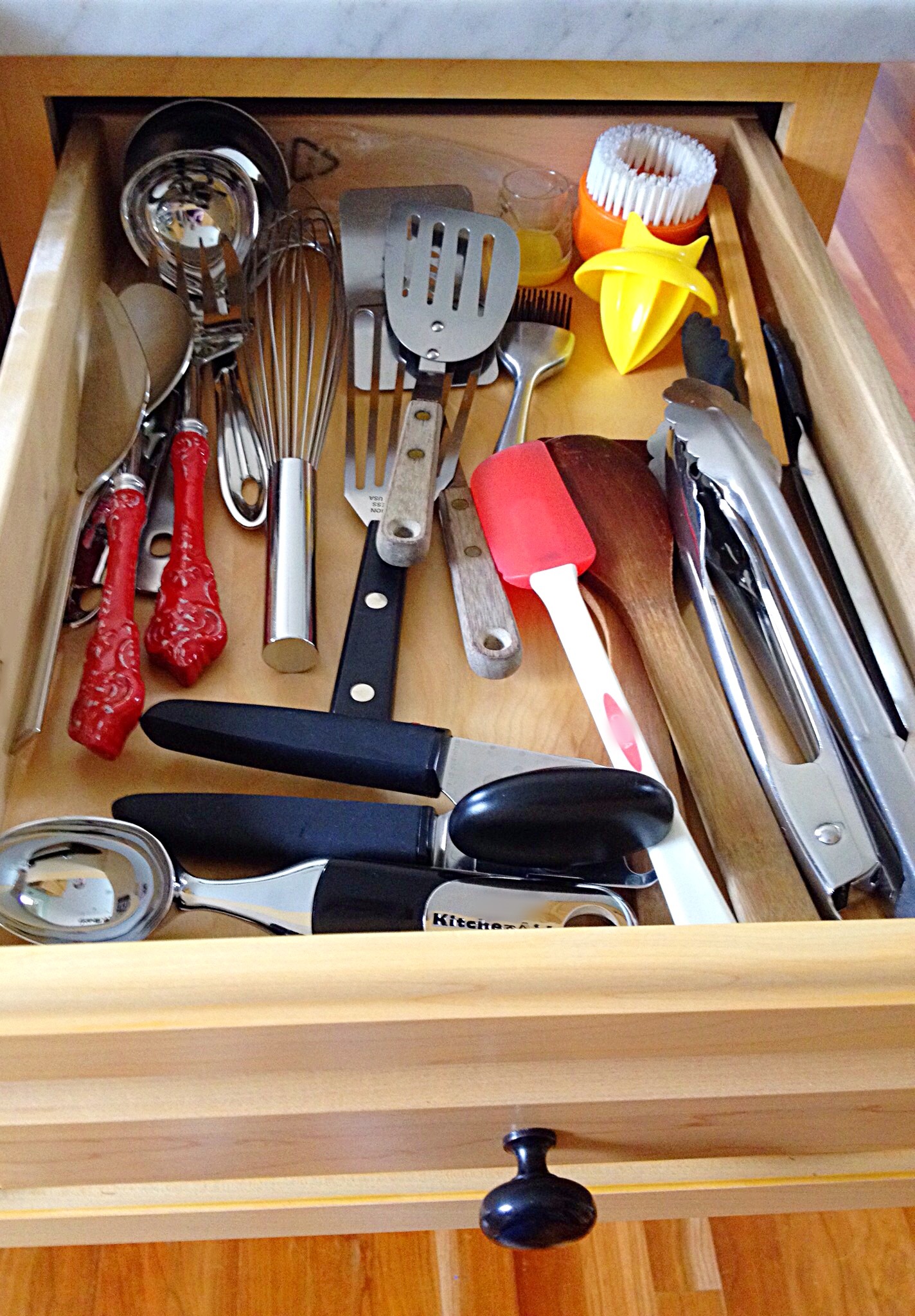 We thought about what we actually used, and put the remainder in the basement for those rare occasions when they are needed.
The everyday utensils are in a smaller drawer that is the same size as the silverware drawer.
So as you face your next kitchen remodel, or even just a simple clean-out, think about what you really use when you cook. Try to streamline your tools. 
You'll be surprised at how much you've accumulated that you don't need, and then you can start putting that "found space" to better use.
Need more organizing inspiration? Check out this post on focusing your everyday energy "Kondo-style."
© 2017, 2020 ajoann.com. See Legalese page for permissions.