They've Got Strings!
Are you wondering why sugar snap peas are labeled "stringless," when it seems like all you get is strings after cooking them?
It's not the peas. It's you. (Sorry!)


There are many foods that I am not expert in making, but I am a darned good pea maker! The secret is the cooking time.
Crunch Time
All types of peas (fresh, frozen, or in the pod) taste one hundred percent better if they are cooked just a bit.  You want them to be almost raw.  In fact, peas are awfully good raw; though that isn't to everyone's liking.
Here's how to make perfect sugar snap peas so that they stay true to their "stringless" identity.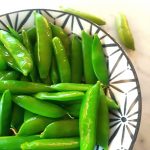 Perfect, Stringless Sugar Snap Peas
They really are stringless, as long as you don't overcook them!
Ingredients
8

oz.

sugar snap peas

raw

1/2

tsp.

salt

1/4

tsp.

butter or olive oil
Instructions
Rinse and set aside raw snap peas.

Fill a medium saucepan with enough water to fully cover peas. Add 1/2 teaspoon of salt and cover.

Bring the pot to full boil.

Remove lid and add the snap peas to the boiling water.

Cook for about 60-70 seconds. Taste test. Peas should still be crunchy, with only a tiny bit more "give" than when they were raw. The peas will continue to soften, so err on the side of a more firm pod.

Turn off heat and drain pea pods in a colander.

Once drained, empty the pea pods into a serving dish.

Add a small bit of butter or olive oil (1/4 tsp.) and mix to distribute.

Serve delicious, stringless, snap peas!
If you like this recipe, try our snap pea and radish salad with honey-baked feta. It's yummy!
© 2018, 2020 ajoann.com. All rights reserved. See Legalese tab for permissions.